Transponder Key
---
Posted on September 6, 2016
Transponder Key Programming 
Most car keys today have a transponder chip. Some claim it is due to insurance companies refusing to insure automobiles unless they took efforts to reduce the risk of car thefts. Others say it is just the natural course of advancing technology. Regardless of the reason and regardless of the car make and model, starting in about 1995, this technology began to become the norm. Before that, car keys were usually made out of metal and cut with notches and grooves to fit the locks on your car doors, trunk, and ignition. These traditional metal keys were easy to duplicate with the proper tools, and cars were fairly easy to hot wire and steal if you had even a small amount of mechanical know-how.
Transponder keys changed this to make vehicles more of a challenge to steal, and in so doing, made the keys a bit of a challenge to duplicate.
It's a big, fancy word, but what exactly is a transponder key?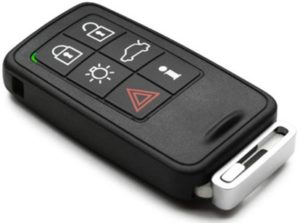 The name of the transponder key can be broken down to be better understood. The term comes from the words "Transmitter" and "Responder". The microchip that is embedded inside the plastic head of the key receives a signal from an antenna ring that is surrounding the ignition cylinder. Your car's computer receives the transponder key transmits a signal that an antenna surrounding the ignition switch receives. Once the signals communicate electronically, your car engine turns on.
The Computer Chip Is What Makes It a Transponder
A transponder chip disarms a vehicle immobilizer when the car key is used to start the engine. These keys have an rf transmitter inside. There is a device near the ignition switch of the car that has a receiver. The key transmits a very low-level signal which the automobile detects.
There are currently two main types of transponder keys – Zero bitted and encrypted. Zero bitted keys are designed so that they may easily be cloned. They have no preset inscription. Whereas, encrypted keys have a preset, random encryption that requires programming.
Batteries and Transponder Keys
Some transponder keys require batteries, and others do not. When the battery dies, you will need to call upon someone who knows what they're doing to replace the battery and ensure the transponder key is properly synced with your vehicle.
A zero bitted key can be cloned using a tool where a blank key is inserted for copying/cloning the key. For encrypted keys, they require a special tool that hooks up to your vehicle's OBD port for programming. This usually requires an original key as part of the process.
While the automotive industry strives to keep up with technology and new trends, car buyers can easily become confused as to what exactly their specific type of key is called. Some confuse transponder keys with a car remote or proximity key. Remotes unlock and lock your car from a distance. Some of these remotes are built into the key using a remote head key. Others are separated from the key using a key fob. A proximity key works with the same microchip communicating with the car's computer concept as does a transponder key, only it will only work if it is on your person or within a certain proximity to the car, and often requires the physical action of stepping on the brake and pressing an ignition button to start the car.
Either way, the remotes operate separately from the transponder security systems. The term, "transponder" basically refers to a chip that allows communication signals between the vehicle and the key.
Why Transponder Key?
Transponder keys are used to prevent a vehicle from being stolen or hot wired. The vehicle will not start if it does not detect the signal from the transponder key programmed for that car. This may prevent car thefts, but it also leaves you with an additional obstacle to work around when it comes to duplicating your car key. If a key that has been duplicated does not contain the proper signal, the vehicle will not start.
Does My Car Use A Transponder Key?
If you are unsure whether or not your key is a transponder key, wrap layers of aluminum foil around the plastic part of the key and try to start your car. If it is a transponder  key, the engine will not start until you remove the aluminum foil so the vehicle once again receives the proper signal. Another indication that you have a transponder key is to call your car dealership and ask the price for duplicating the key. If the price shocks you, from between a low estimate of $50 to upwards of $300, you have a transponder key.
Can I Duplicate A Transponder Key?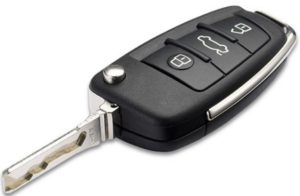 To duplicate a transponder key, it takes more than a key cutting machine. It requires someone who knows how to program and re-program the microchip signal and receiver within the vehicle. Some transponder keys are programmed using a process called On Board Programming OBP and can be performed by the car's owner if they have the proper programming instructions and two existing pre-programmed original transponder keys set to that specific vehicle.
Car dealerships will gladly do this for you, but they also charge a hefty fee and it often takes several days to get your keys back. Another more affordable and timely option is to have a local locksmith program a new transponder key for you. Most locksmiths are trained how to do this and have the proper equipment on hand to help you out in no time at all.
Would A New Car Will Have A Transponder Key? 
With ever changing technology, there are ever changing criminals who discover ways to hack into computers to steal or wreak havoc. Since newer makes and models of cars all run with built-in computer systems, car key technology is no different. This means that transponder key technology needs to keep up. And, it is keeping up with new challenge and password systems. Some use an encryption with a rolling code which changes the password each time it is used. The car transmits a six-digit number, for instance, that is generated using a complicated algorithm, and the transponder is programmed to calculate the code and respond.
---